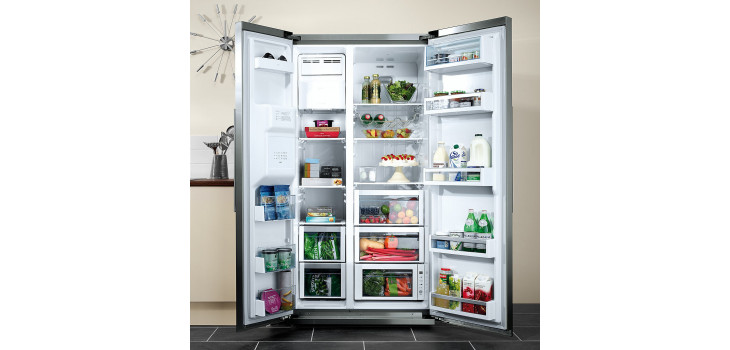 By Stewart Muir
Published 2 years ago
Fridges are like opinions, we've all got one. And everyone has slightly different ways of keeping the ice-cream frozen and the milk from going off – from the freestanding, old-reliable in the kitchen, to the chest freezer out in the garage, even as far as a USB-powered, one-can micro-chiller. Such a household staple has been looked into a few times in terms of its energy use - as well as Topten's market monitoring reports, we've seen some interesting stats from studies such as EST's Powering the Nation report on the different number and types in UK homes.

For example: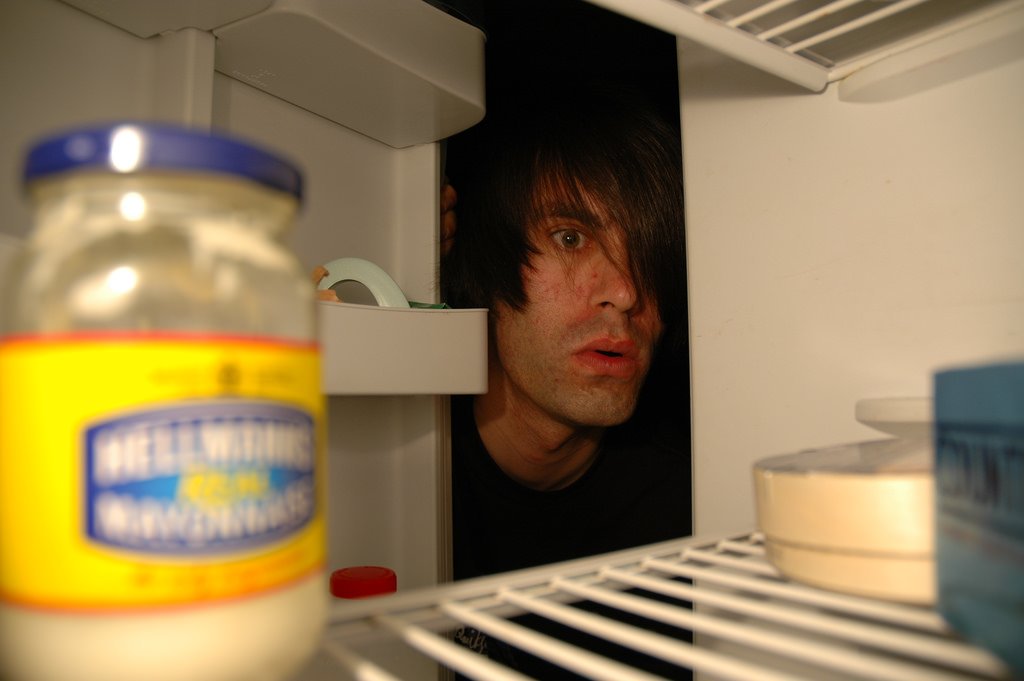 10% of study participants had three separate cold appliances
3.5% own four types
The average number of refrigeration appliances owned is 1.7
57% of us have a combined fridge freezer
Perhaps our usage patterns have not changed much since 2012, when Powering the Nation came out – compared to other fast-changing product types, there has not been too much change in the way we keep food cold, but refrigeration remains one of the main energy users in the home, accounting for around 16% of our energy use.
When you've bought one, you're likely locked in to your purchase for a while, with replacement only likely every 8-10 years or so. Average annual energy consumption for fridge-freezers has improved by around 25% over the past decade as we saw in a recent JRC report, which is great - but some less efficient ones seem to hang around well past their prime – I think my parents have owned their fridge-freezer for over 20 years, a model that is a far cry from some of today's that have a display screen built in.
Topten UK has listings of the most efficient fridge-freezers out there, but what does the whole market look like, for someone looking to put all that efficiency theory into practice and actually buy a fridge across different budgets, sizes and tastes? We've collected a few bits of interesting data from the UK market on fridge freezers, so over the next few weeks we can answer a few questions, hopefully with as few bad food puns as possible.
So, first up, we'll be opening both doors on the American-style side-by-side fridge freezer, which has become an increasing design trend over the past few years. We randomly sampled 70 models from the UK's main retailers and checked their volume and consumption values.
Topten UK has yet to feature side-by-side types, as when previously compiling lists, none met the freestanding criteria of A+++, with very few even achieving A++. By design, upright refrigeration is generally more efficient than operating a fridge and a freezer compartment side by side. However, the recent data collection showed the first A+++ American style model we'd seen, from Haier. The vast majority of models sampled (84%) achieved an A+ rating – if you weren't particularly versed on EU Ecodesign policy you might think this was pretty efficient, but in actual fact it's the lowest class that can be sold currently. Fortunately this is being sorted out somewhat by the decision to re-scale the energy label back to A-G.
But back to fridge data – here's how these 70 models stacked up on annual energy consumption versus their volume: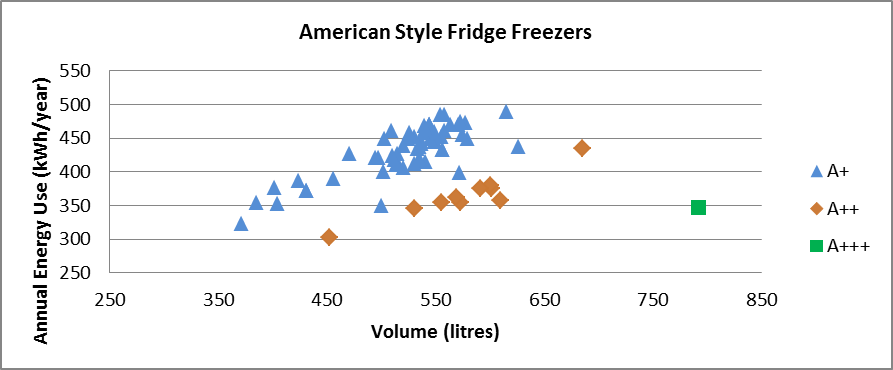 There is some pretty big storage going on here, and there's no getting around the fact that some families just need to store a lot of food. The spread of data is interesting – the highest annual energy consumption observed was 490 kWh/year – that'd be a running cost of around £74 per year, with the majority of the A+ models clustered around the 540 litre mark (apparently that's about 30 bags of food shopping). The Haier A+++ behemoth can hold 792 litres (perhaps you have an entire cow in there) but delivers that for 347 kWh per year, which is quite impressive compared to the rest of the market. We compared this data with the current Topten UK selection of freestanding models, which all achieve an A+++ rating.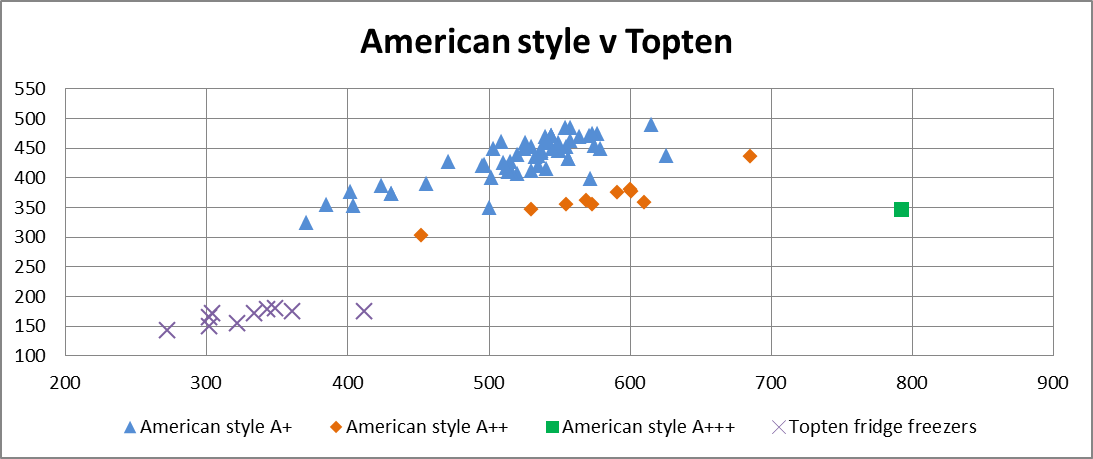 As entirely expected, the consumption and volume are both much lower for the Topten range, but the data gives an indication of how much energy and money could be saved if you avoid buying way bigger than you need. The most efficient freestanding fridge-freezer on Topten UK at the time of writing was a 272 litre model that used 143 kWh per year - a running cost of about £21 per year, with even the largest A+++ model at over 400 litres using under 200 kWh/year.
As Powering the Nation showed that a lot of people own more than one appliance, perhaps a more interesting comparison is to look at the difference between the median volume American side-by-side sampled and a combination of the current median volume Topten UK freestanding unit and undercounter refrigerator.
| | | |
| --- | --- | --- |
| Model | Volume (litres) | Annual energy consumption (kWh) |
| Median American-style | 539 | 459 |
| Median Topten freestanding fridge freezer | 334 | 172 |
| Median Topten undercounter refrigerator | 136 | 99 |

The combined volume of the freestanding and undercounter appliances (470 litres) is 87% of the volume of the median US-style appliance sampled (539). However, in terms of their combined yearly energy consumption, they only use 59% of the energy, showing the benefit of buying the most efficient appliances. Of course we are comparing super-efficient A+++ appliances with an A+, but as there are very few side-by-side models above A+, this is a scenario a buyer could easily find themselves in.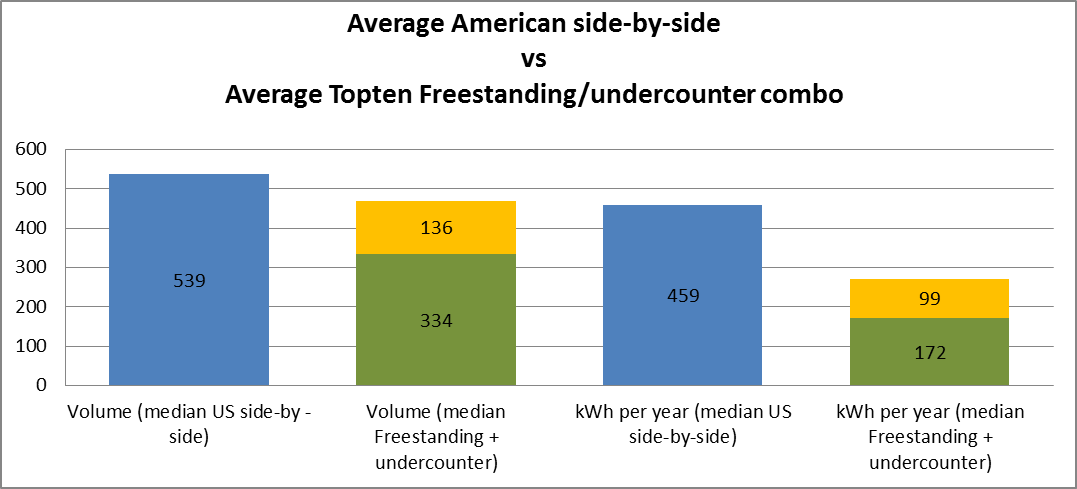 Again, we should re-iterate – some people do need a large amount of storage space and an American style fridge-freezer is what fits in their home and works best for them. The good news is that Ecodesign policy has made sure that products which are off-the-charts inefficient can't be sold anymore, and this type does also appear to be improving. However it's important to ensure that energy sufficiency is being considered as well as efficiency, and there are some pretty big running cost savings if you avoid ending up with one that's way bigger than you need, which could easily happen when such a strong design trend hits the market.
Next week we'll look how the market looks in terms of energy for smaller refrigerators that might be found in flats and narrow spaces.